World Famous Programs!
Puppy Meet and Greet / $50: When it comes to working with pups under 5 months old, we offer a puppy consultation. The consultation is a private, one-on-one session with the trainer for about an hour, where we go over important topics for those early months of your puppy's life! This includes socialization, potty training, & crate training and answering any questions you may have. We know many owners are anxious to get started with obedience training, but we do not recommend starting this kind of intense training (nor should any trainer) until they are at least 5 months old.
Below is an overview of our programs for you to check out to help you decide what program is a best fit for you and (dog name) when they're old enough!
Our E-Collar: We use the Mini Educator by E-Collar Technologies. This collar has a two-year warranty, it is completely waterproof, and it has a range of 3/4 mile (1200 yards)! The collar is included in each package and will be brought to your first lesson!
The Basic Obedience Package / $625.00: This package includes your e-collar as well as FOUR one-on-one, hour-long sessions with one of our certified trainers! By the end of this package, your dog will be able to be outside, off-leash, with distractions listening on command. Below is a list of commands they will learn over just four weeks!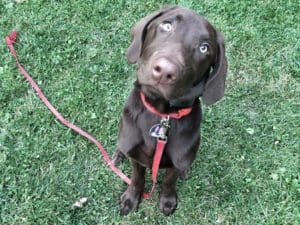 –Come
–Sit and Extended Sit
–Down and Extended Down
–Place and Extended Place. get onto a specific location that you point to (chair, park bench, etc)
–Loose Leash Walking. They will walk right beside of you on a leash
–Out. To drop any thing you ask them to.
–Off. Any negative or unwanted behaviors (jumping, barking, counter-surfing, etc.)
**Extended sit, down, and place means your dog will REMAIN in the down, sit, or place position until YOU tell them to "break" (release them).
Basic and Advanced Obedience Package / $950.00: This package is for those who really want their dog to be rock-stars! This includes EIGHT lessons. Your first four lessons consist of the basic obedience package and your last four are chosen from our list of advanced commands.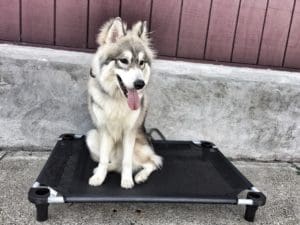 We offer numerous advanced lessons!
-Extended distance obedience (your dog will sit/down on command from yards away)
-Heel command (they come running, go around you and sit down at your left side)
-Watch command (stare at you until you release them)
-Through command (go in between your legs and sit down)
-Stand command (they will assume a standing position on command)
-Front command (they will sit directly in front of you no matter where they are)
-Focused heeling (will stare at you the entire time they heel)
-Touch command (stand up against anything you point to), and many more!
Therapy Dog Development Program / $950.00: Is your goal to have your dog become a certified therapy dog? This specially designed eight-lesson course prepares you and your dog for their therapy dog testing and certification. Your first 4 lessons will consist of the basic obedience package. The following 4 lessons focus on therapy tasks, behaviors and commands. Thus far, 100% of our clients who have done this program, have passed the therapy dog certification!
Dog Aggression Training Program / $1,050.00 : Does your dog have issues with dog aggression, dog reactivity, or simply go over the top when it comes to other dogs being around? This 8 private lesson program consists of our basic obedience package (4 lessons/5 commands) which will give you a solid foundation of control over your dog. The next 4 lessons you and your dog work around other dogs in different scenarios, commands, and situations. This package will give your dog (and you) the skills, tools, obedience, and desensitization that is necessary in order to put you back in control of these situations.
Two-Week Board and Train Program: This is our all inclusive program! Being that it is the most popular, it is usually booked for a few months in advance, so please contact us to schedule an appointment for this! The program offers not only outstanding results in off-leash obedience in high distraction areas, but also comes FULLY GUARANTEED. In this programs, you drop off your dog, and two weeks later you pick up a dog that is flawless outside, off-leash, with distractions!
Contact us today about training for your pup!
alex@offleashk9training.com
(646) 741-0202